The Antivirus solution provided for Mac users at CERN - both on their work and home computers - is Microsoft System Center Endpoint Protection (SCEP)
Microsoft System Center Endpoint Protection (SCEP)
SCEP is available via the SelfService. If you have previously installed Norton Antivirus, Symantec Antivirus or Symantec Endpoint Protection, please follow the uninstallation procedure for these products described at the bottom of this page.
By default, SCEP will protect your Mac in real-time and the scheduled scan will be disabled. Real-time File System Protection can be temporarily disabled and re-enabled by accessing the green SCEP icon (

) from your Mac's menu bar. You can also launch a scan of your computer from or even schedule a recurrent file system scan. In case you run a file system scan, please make sure that you exclude all remote file systems from the scan by unchecking /AFS/ and subdirectories of /Volumes/.
Feedback
If you have feedback - or a problem - related to this product, please contact the Service Desk.
Known problems
Older versions of SCEP would by default scan your whole computer and all mounted network volumes (including AFS space if OpenAFS is installed) once per week. The latest vesion of SCEP will avoid scanning SMB mounts, but would still scan the whole of AFS if the directory /AFS is not manually removed from the configuration of the scan. The latest version of SCEP has the weekly scan disabled altogether.
In order to manually disable the weekly scan, please follow these instructions:
Start 'System Center Endpoint Protection' by clicking on its icon (

) in the menu bar and selecting 'Open System Center Endpoint Protection' from the dropdown menu. You get a window like the following: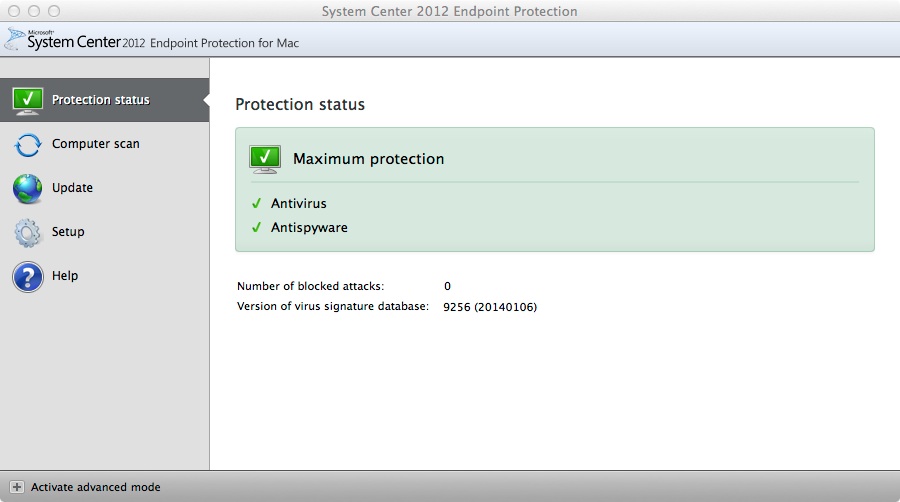 In the case you already have a 'Tools' menu in the left pane of the window you can skip the next step, otherwise click on the 'Activate advanced mode' area in the lower left corner. The window should now look like this: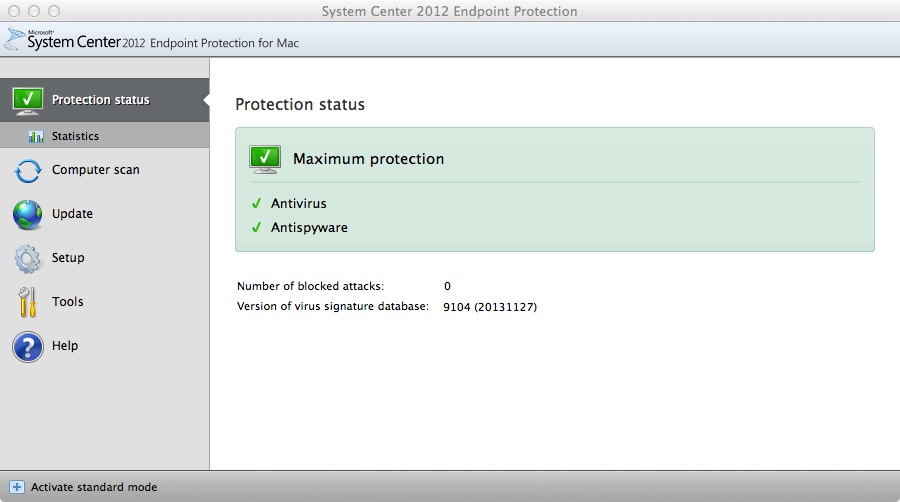 Click on 'Tools' and then 'Scheduler' in the left pane. You now should see the scheduled tasks running per default:
Click in the checkbox in front of the 'Weekly scan' to unselect it: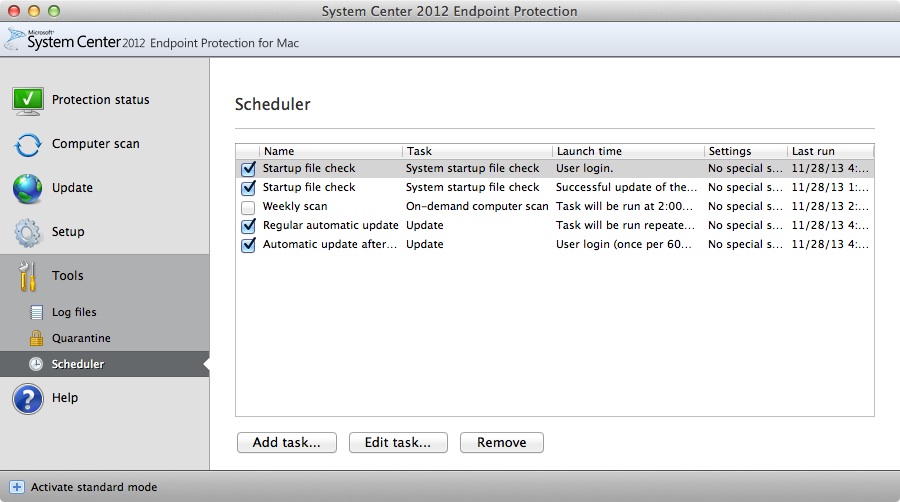 Symantec Antivirus
Symantec Endpoint Protection for Mac was decommissioned in February 2016.
Symantec Endpoint Protection, Symantec Antivirus and Norton Antivirus contain critical vulnerabilities and should be uninstalled.
If you still cannot uninstall Symantec, please check https://support.symantec.com/en_US/article.TECH103489.html.