Mac desktop and portable computers (and accessories) are now available from the CERN stores. Please order them directly from the EDH CERN Stores Catalogue. You can use the keyword "Mac" in the catalogue search.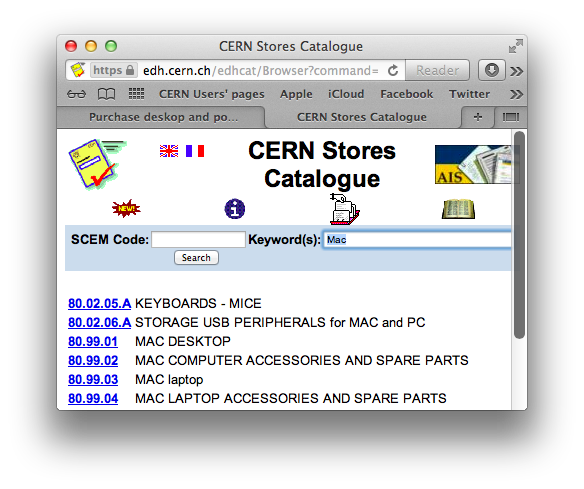 For official purchase of Apple hardware different than Mac desktop or portable computers (iPads, iPhones, or other Apple hardware) the guidelines of the FP department are to use the standard procurement procedures.
Apple warranty: 1, 2 or 3 years?
By default, Apple provides a limited world-wide warranty for 12-months following the date of purchase.
Based on Swiss law, Apple provides 2-year warranty, as explained at http://www.apple.com/chfr/legal/statutory-warranty/. Please note that the conditions between the 1st and 2nd year of the warantee can be different as explained in this document.
Apple also proposes an optional paid 3-year warranty extention. Considering the cost of this extension, the hardware failure rates and the drop in the value of the equipment with time, the CERN IT department advises against purchasing this warranty extension.