K2 asset management suite
K2 is a hardware and software asset management suite that integrates hardware & software audit information, usage tracking, and active license management. For each software product, purchase data is consolidated to produce a clear view of the current entitlement position which is then automatically reconciled against management policies, usage, and installation audits.
K2 ensures license compliance. It not only reports what is installed on both physical and virtual computers, but also tracks both online and offline usage for detailed analysis and summarization in numerous reports.
The graphic reports like the example below allow us to know how many licenses are needed concurently.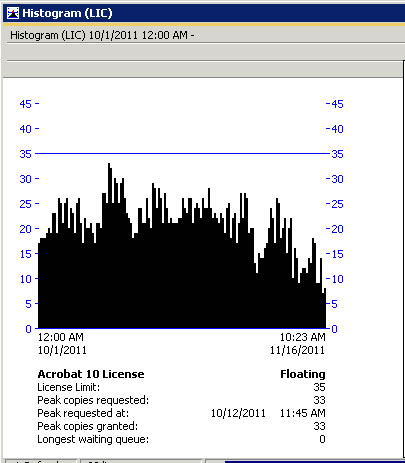 To install the K2 client software
The installers for the packages that require K2 are already instrumented with a K2 client, so there should be no need to install it manually.
If the device on which you intend to install this software is owned by an external university or institute, please ensure that you have the right to authorise the installation.
Connect to the volume MacSupport (click on the link or copy the URL in the Finder / Go / Connect To Server dialog box)
Download the installer disk image: K2Client-version.dmg

If you used Safari to download the file, it might have been saved as 'K2Client-version.dmg.html'. In that case you first have to rename it back to 'K2Client-version.dmg'

Double-click on the installer disk image to mount it. This will open a Finder window showing the installer file 'K2Client-version.pkg'
Double click on the installer file to start the installer. The latest version of the installer is already configured for reporting to our K2 server (k2server01.cern.ch). It also installs a recent version of the OCS Inventory Agent
The installer will ask you to restart the computer. This is essential to start the reporting. You will only be granted access to the licenced software after we could verify that our computer properly reports to the K2 and OCS servers.
To update your K2 client
Follow the steps as for the installation. In case of an update the installer will take the value for the server from the existing configuration, so you only have to check that the server is set to k2server01.cern.ch
The installer will ask you to restart the computer.