K2 is not used any longer at CERN
We are not using K2 anymore to manage licenses. Users are invited to remove the K2 client from their Mac using the K2 Removal item available in the Mac Self-Service. The K2 server will be stopped end of November 2019.
The remainder of this page is only kept for historic reference.
K2 asset management suite
K2 is a hardware and software asset management suite that integrates hardware & software audit information, usage tracking, and active license management. For each software product, purchase data is consolidated to produce a clear view of the current entitlement position which is then automatically reconciled against management policies, usage, and installation audits.
K2 ensures license compliance. It not only reports what is installed on both physical and virtual computers, but also tracks both online and offline usage for detailed analysis and summarization in numerous reports.
The graphic reports like the example below allow us to know how many licenses are needed concurently.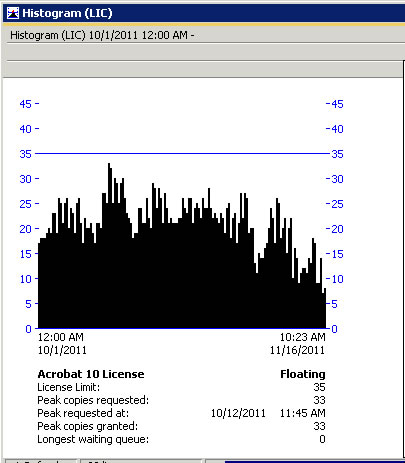 To install the K2 client software
The installers for the packages that require K2 are already instrumented with a K2 client and the OCS inventory agent, so there should be no need to install it manually.
If the device on which you intend to install this software is owned by an external university or institute, please ensure that you have the right to authorise the installation.