BlueGriffon 3.x
BlueGriffon has serious problems on recent versions of macOS, the authors don't appear to react on bugreports. So we stopped making BlueGriffon available via the Self-Service.
What is BlueGriffon ?
BlueGriffon is a WYSIWYG content editor for the World Wide Web. It is based on the discontinued Nvu editor, which in turn is based on the Composer component of the Mozilla Application Suite. Powered by Gecko, the rendering engine of Firefox, it can edit Web pages in conformance to Web Standards.
It runs on Microsoft Windows, macOS and Linux. BlueGriffon complies with the W3C's web standards. It can create and edit pages in accordance to HTML 4, XHTML 1.1, HTML 5 and XHTML 5. It supports CSS 2.1 and all parts of CSS 3 already implemented by Gecko.
BlueGriffon also includes SVG-edit, an XUL-based editor for SVG that is originally distributed as an add-on to Firefox and was adapted to BlueGriffon.
How to install BlueGriffon?
BlueGriffon is available on the Mac Self-Service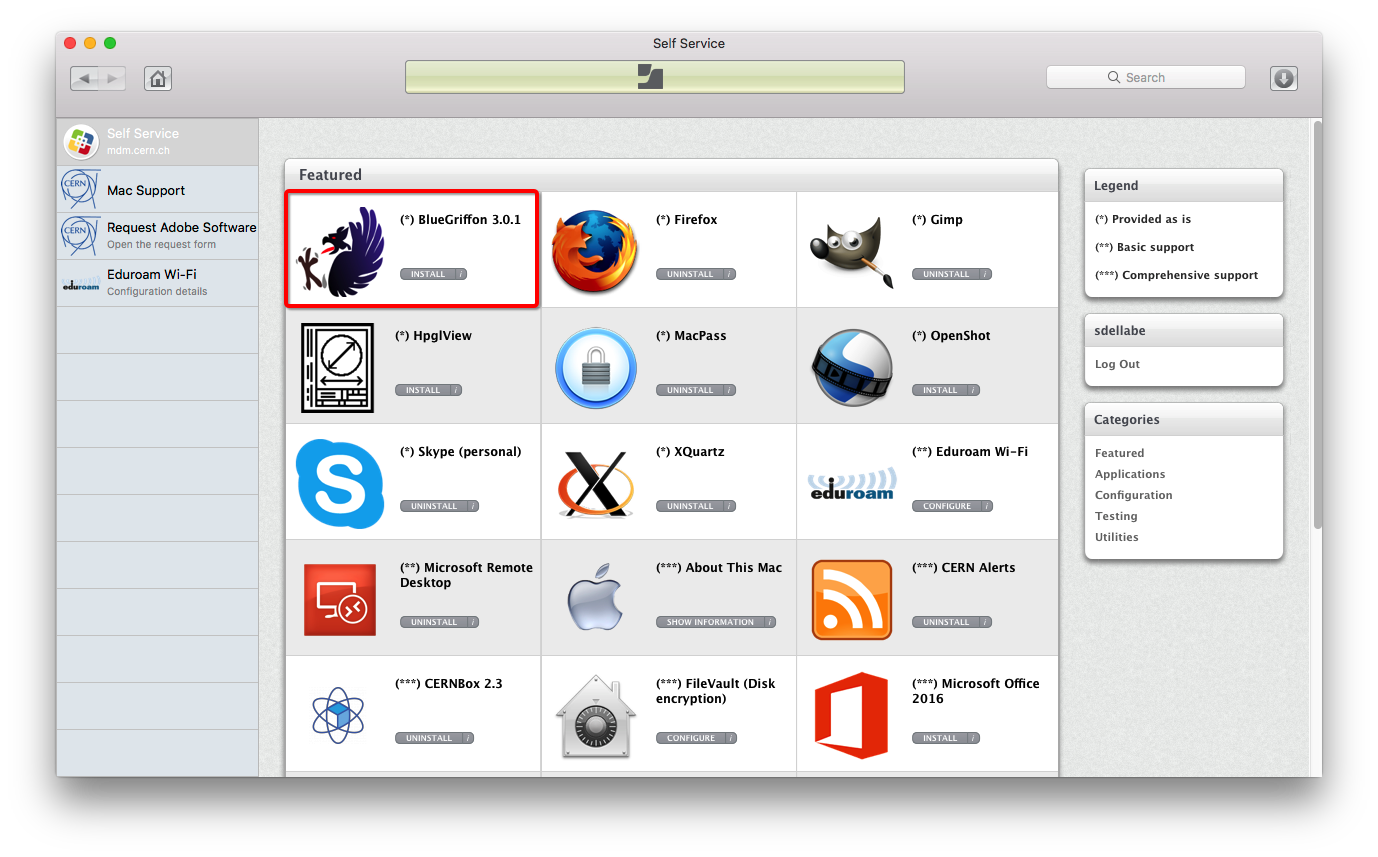 How to use BlueGriffon ?
BlueGriffon is very intuitive to use, quite similar to your favourite text editor as What You See Is What You Get (WYSIWYG).
Nevertheless, a bunch of useful tutorial are available online here:
The user manual is available online, only for CERN users, here
What are the differences between the free version and the commercial one ?
BlueGriffon is availabe in 3 different flavors: Free, Basic, Epub.
We are actually providing the Free version in the self-service and we believe that it will cover the major part of user's needs.
Nevertheless, if you are interested in another edition, you can contact
service-desk@cern.ch
for more informations.
The Basic version add :
The

user's manual

Responsive design
Fullscreen mode
CSS Editor Pro with Media Queries, CSS Variables and even a visual CSS Selector editor!
Table Layout Manager with 44 predefined layouts, all strictly CSS-based

Toolkit Manager for one-click insertion of multiple JavaScript/CSS files

MathML Editor panel (based on ASCIIMathML)

Code Snippets panel

One-Click Templates Manager with ~2,500 free templates

Mobile Viewer

EyeDropper, a colorpicker allowing to select a color from anywhere on screen(s) (Windows and Linux only)

PUTter, to publish a document and the local resources attached to that document through HTTP PUT

Thumbnail manager

Word count warnings

Project Manager
The Epub edition add all the necessary features to produce quality Epub contents:
EPUB 2
EPUB 3.0

EPUB 3.1

full metadata editing support for EPUB 2, 3 and 3.1

copy/paste between EPUB and all flavors of html
Resources