Update 28 August 2017: As previously announced (see below), Mac and PC users will soon be prompted to remove Adobe Reader  XI, Adobe Acrobat XI and all previous versions of Adobe.
For security reasons, please uninstall all pre-Cloud versions of Adobe as soon as possible (for PC CMF users, removal was  forced in October 2017).
Increased security issues combined with Adobe's new pricing policy forces replacement for both the Acrobat PDF Reader and Editor across CERN
Official figures put the number of Adobe vulnerabilities at over 225 for 2016 (Secunia Research Vulnerability Review 2017, available from http://www.flexerasoftware.com). This is more than three times their closest competitor. Furthermore, Adobe have changed their pricing structure and products cannot be purchased any longer, instead users will need to subscribe to services and be charged a yearly access cost. Given our user numbers, this makes a site licence prohibitively expensive for CERN.
That is why the IT Department launched a "PDF replacement project" last year to investigate and test alternative products. The IT Technical User Meeting (http://cern.ch/itum) was regularly informed of the progress, and the proposed new software has been available since February.
IT Department and the "mattermost early adopters" (https://mattermost.web.cern.ch/it-dep/channels/early-adopters) have been testing the solutions for a few months and we would like to take this opportunity to thank all those using the new software already and for the feedback we received. Given the positive results, it is now time to replace the PDF software at CERN.
New PDF software
Adobe Acrobat can do many things and there is no like-for-like replacement. The software below represents the best tools found.
The new recommended PDF software depends on your operating system:
Mac:
-          PDF Reader: please use Mac Preview (comes with MacOS)
-          PDF Editor: PDF Expert available via Mac Self-Service (https://cern.service-now.com/service-portal?id=kb_article&n=KB0003677) if your Mac is on site or has been on site recently
These new tools are compact, taking up around 80% less space than Adobe, and the PDF files they create are much smaller than Adobe ones.
What this means for you
Here we simply outline our recommended solutions depending on the PDF functions used.
Basic functions: if you simply open PDF files to read and/or print them, then please install the Reader solutions mentioned. In fact, your web browser usually has a PDF reader incorporated.
Editing functions: if you edit PDFs, such as replacing text and/or images, please install the Editor solutions mentioned. The feedback we received is very positive, many stating that the editing functions are easy to use.
Advanced functions: naturally there will be some use cases that cannot be met, e.g. opening specialised PDF files incorporating 3D models, or embedding fonts on a Mac; where Adobe may be required. We recommend checking the "use case matrix", testing the Editor solutions, and if your specific needs are not met, please follow the instructions below to purchase yearly access.
Please choose the appropriate solution for your needs and install the new software now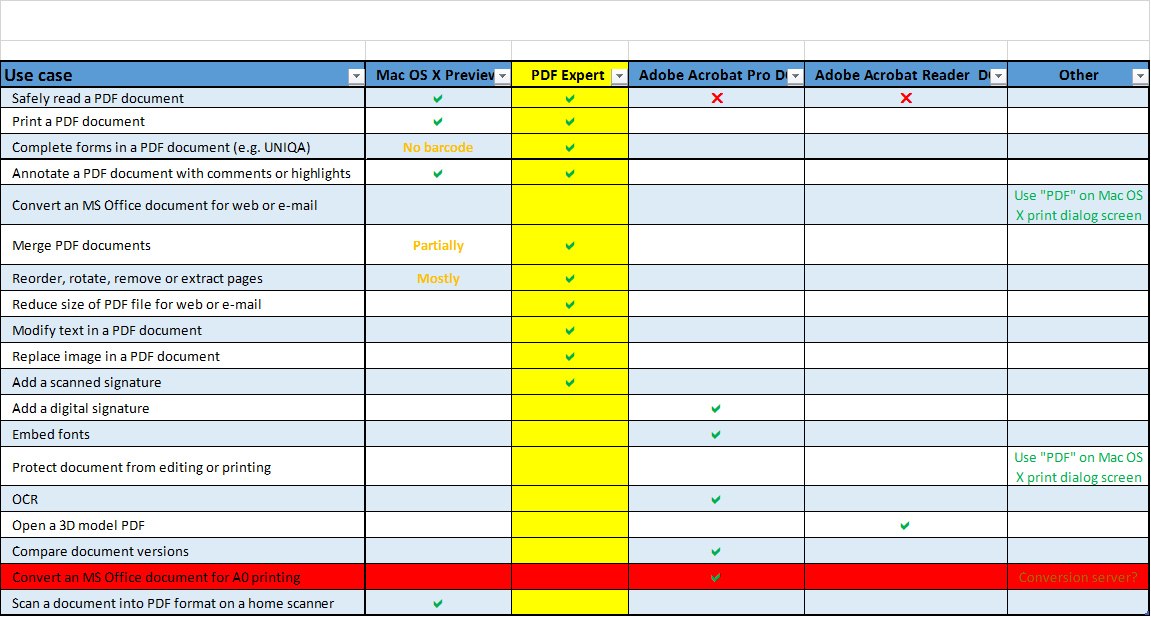 The replacement timeline
The following table outlines the schedule, driven by the end-of-life date for Adobe Acrobat.
Description
Date
Push new PDF tools + change default PDF software
Spring
Trigger removal of Adobe Acrobat Reader XI on PCs
During September 2017
Trigger removal of Adobe Acrobat XI Pro on PCs
During September 2017
End of support by Adobe of Adobe Acrobat XI Pro and of security updates
15 October 2017
PC users will be prompted via CMF to remove Adobe, while Mac users will be reminded via the usual channels.
How to purchase Adobe Acrobat DC
Should you still require Adobe Acrobat DC, please complete the following request form:
https://cern.service-now.com/service-portal?id=sc_cat_item&name=Adobe-Creative-Cloud-access
Please note that Adobe Reader DC will be made available as a CMF package for special cases (e.g. reading 3D PDFs). However, other PDF software should be installed as the default to help strengthen security.
------------------------------------------------------------------------------
L'amélioration de la sécurité combinée avec la nouvelle politique tarifaire d'Adobe nous obligent à remplacer les éditeurs et lecteurs PDF au CERN.
Les chiffres officiels montrent que le nombre de vulnérabilités d'Adobe s'élèvent à plus de 225 sur l'année 2016 (Secunia Research Vulnerability Review 2017, disponible sur http://www.flexerasoftware.com). C'est plus de trois fois supérieur à son plus proche concurrent. De plus, Adobe a changé sa politique tarifaire et les produits ne peuvent plus être achetés. A la place, les utilisateurs devront souscrire à un abonnement à ces services et seront facturés pour l'utilisation à l'année. Etant donné notre nombre d'utilisateurs, une licence de site aurait un coût totalement prohibitif pour le CERN.
C'est pourquoi le département des technologies de l'information a lancé le projet de remplacement des outils PDF l'an passé afin de trouver et tester des produits alternatifs. Les utilisateurs techniques des technologies de l'information ont été régulièrement informés des progrès de ce projet de remplacement des outils PDF à l'occasion des réunions 'ITUM' (http://cern.ch/itum) qui leur sont dédiées. Les  nouveaux logiciels sont disponibles depuis février.
 
Le département des technologies de l'information et  les groupe des "utilisateurs précurseurs de mattermost" (https://mattermost.web.cern.ch/it-dep/channels/early-adopters) ont testé ces solutions depuis quelques mois et nous souhaitons saisir cette opportunité pour remercier tous ceux qui utilisent déjà les nouveaux logiciels et qui ont partagé avec nous leur retour d'expérience. Suite aux retours très positifs, il est maintenant temps de remplacer les outils PDF au CERN.
Nouveau logiciel PDF
Adobe Acrobat a de nombreuses fonctionnalités et il n'y a pas de solution totalement équivalente. Les logiciels cités ci-dessous sont ceux qui se sont avérés être les meilleurs.
Les nouveaux logiciels PDF recommandés en focntion de votre système d'exploitation sont les suivants :
Ces nouveaux outils sont compacts, prenant jusqu'à 80% d'espace disque en moins qu'Adobe et les fichiers PDF qu'ils génèrent sont beaucoup plus légers que ceux créés avec Adobe.
Ce que ça signifie pour vous
Vous trouverez ci-dessous les solutions que nous recommandons selon les fonctions PDF utilisées :
·         Fonctions basiques : Si vous ouvrez simplement les fichiers PDF pour les lire et/ou les imprimer, merci d'installer la solution Lecteur proposée. A noter que votre navigateur Web a probablement un lecteur PDF intégré.
·         Fonctions d'édition : Si vous modifiez des fichiers PDF, comme remplacer du texte ou des images, merci d'installer les solutions Editeur proposées. Le retour que nous avons reçu est extrêmement positif et souligne de manière générale que les fonctions d'édition sont faciles à utiliser.
·         Fonctions avancées : Il y aura assurément des utilisations et besoins qui ne pourront être couverts par ces solutions, comme ouvrir des fichiers PDF spécialisés incluant des modèles 3D, ou intégrant les polices de caractères sur Mac et pour lesquelles l'utilisation d'Adobe Acrobat peut s'avérer nécessaire. Nous recommandons de consulter la liste des différentes solutions proposées, de tester les solutions Editeur et si vos besoins spécifiques ne sont pas couverts, de suivre les instructions ci-après pour souscrire à un accès annuel.
·         Merci de choisir la solution qui correspond à vos besoins et d'installer le nouveau logiciel dès maintenant !
Le calendrier de remplacement
Le tableau suivant énonce le planning motivé par la fin de vie d'Adobe Acrobat.
Description
Date
Déploiement des nouveaux outils PDF et changement du logiciel PDF par défaut
Printemps
Programmation de la désinstallation d'Adobe Acrobat Reader XI sur PC
Courant septembre 2017
Programmation de la désinstallation d'Adobe Acrobat XI Pro on PCs
Courant septembre 2017
Fin du support d'par Adobe d'Adobe Acrobat XI Pro et des mises à jour de sécurité
15 Octobre 2017
Les utilisateurs sur PC se verront demander via CMF de désinstaller les produits Adobe Acrobat, tandis que les utilisateurs Macs seront contactés par les canaux habituels.
Comment acheter Adobe Acrobat DC
Si vous avez toujours besoin d'Adobe Acrobat DC, merci de compléter le formulaire de demande suivant:
https://cern.service-now.com/service-portal?id=sc_cat_item&name=Adobe-Creative-Cloud-access
Veuillez noter qu'Adobe Reader DC sera disponible sous forme de paquet CMF pour les cas particuliers (comme lire les PDF 3D). Cependant, un autre lecteur PDF doit être installé par défaut afin d'améliorer la sécurité.